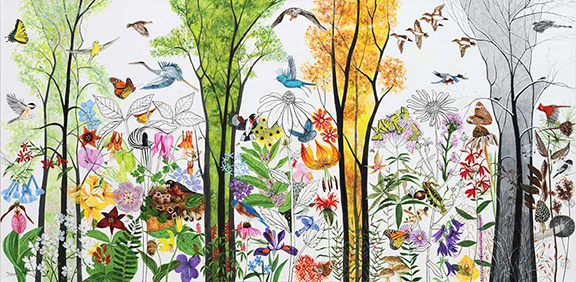 THE FOUR SEASONS
Acrylic
24" x 48"
Detail 1, Detail 2
Original $3800 SOLD
High Resolution File Available
Dayton Children's Hospital, OH - Print
You can now go to this site and order any number of prints of my paintings.
fineartamerica.com
It can be paper, canvas, fabric with a vast array of sizes and options.
If you do not see the painting you want, let me know and I will make it available to you. Thank you!
PRINT COMMISSIONS:
Dayton Children's Hospital; Photo print (23"x46") Dayton, OH; 2019

Lucile Packard Children's Hospital; 2 paintings for treatment rooms (19" x 120" & 19" x 145") Palo Alto, CA; 2019

Wake Forest Baptist Health, Printed installation honoring Abdominal Transplant Donors; Winston-Salem, NC; 2019
Clean Air Carolina; (Charlotte & Chapel Hill, NC) Paintings copyright donated for reproductions as wall prints and 3 other paintings as note cards; 2016
Salemtowne Retirement Community Poster; (Winston-Salem, NC.) to be used in the promotion of the facility; 24" x 48"; 2015
Bill Moran Poster; American Bladesmith Society, Inc. To be used to honor their founder and as a fundraising item for the group; 20" x 16"; 2006
Homeless Man Poster; Samaritan Ministries, Inc. (Winston-Salem, NC. to be used as a fundraising item and to celebrate their 25th anniversary. 20" x 16"; 2006
Emerson et Cíe (High Point, NC) Painting used for invitation, ltd. poster and promotional purposes for the Furniture Market; total size: 40" x 30"; 2001
Wingate Hotel; Winston-Salem Parking Deck (Winston-Salem, NC) Art Treatment of 4 story parking deck. Utilizing printed vinyl, laminated to PVC and applied to the exterior of the deck; fifteen square 6.5 ft. panels; and three 27 ft. x 2 ft. panels; 2000.
Old Salem, Inc. (Winston-Salem, NC) Painting used as 22" x 28" poster, postcard, puzzle and note cards; 1999.
Winston-Salem and North Carolina posters. 1995
Focke and Co. (West Germany) Three limited edition menu covers; 1995, 1991 and 1986.
KinderCare Childcare Center (Montgomery, AL) Six canvas paintings reproduced as limited edition prints for use in their daycare centers nationwide; 1994.

Sara Lee Corporation; Hanes Hosiery Division (Winston-Salem, NC) Olympic painting for poster, 24" x 36" and photo/mural wall at trade show, 96" x 144"; 1993.
Knight Foundation (Miami, FL) Three canvas panels, reproduced as tee shirt and Annual Report cover; 1993.
Salem Investment Counselors (Winston-Salem, NC) One canvas panel, reproduced as Christmas Card 1990.
Lt. Governor Jim Gardner (Raleigh, NC) Painting reproduced as Christmas card, ltd. print, and poster; 1989.
Hyatt Hotels (Winston-Salem, NC) Painting used as Limited Edition Poster; 1986.

A.H. Robins Co. (Richmond, VA) Painting used as Olympic Poster and Limited Edition Prints; 1984.
CONTACT | TRENA McNABB | LINKS | SITE MAP
© 2021 Trena McNabb