OTHER CORPORATE COMMISSIONS:
University of North Carolina; Eddie Smith Field House (Chapel Hill, NC) Olympic Runner for the Hall of Fame, size 30" x 24"; 2006
Emerson et Cíe (High Point, NC) Painting used for invitation, ltd. poster and promotional purposes for the Furniture Market; total size: 40" x 30"; 2001
Wingate Hotel/Winston-Salem Parking Deck (Winston-Salem, NC) Art Treatment of 4 story parking deck. Utilizing printed vinyl, laminated to PVC and applied to the exterior of the deck; fifteen square 6.5 ft. panels; and three 27 ft. x 2 ft. panels; 2000

Christ Hospital; Children's Pavilion (Oaklawn, IL) 30" x 48"; 1996
Philip Morris (Concord, NC) 36" x 72; 1995
St. James Hospital (Chicago, IL) Three canvas panels, one @ 18" x 60", two @ 38" hung in the shape of a cross, total size of 60" x 94"; 1995
Kaiser Permanente Hospital (Hollywood, CA) Two feature areas; each area with two canvas and one plexiglass square (hung as diamond shapes) interlocking together for a total size of 51" x 104" x 4" ea.; 1995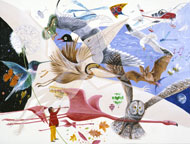 KinderCare Childcare Center (Montgomery, AL) Five canvas paintings; three 30" x 40", two 30" x 48"; paintings reproduced as limited edition prints for use in their daycare centers nationwide; 1994
Ciba Corporation (Greensboro, NC) 30" x 36".
Flow Motors, Inc. (Winston-Salem, NC) 30" x 36".


PNC Mortgage (Chicago, IL) Three canvas paintings each 48" x 36"; 1994


Fannie Mae Mortgage (Chicago, IL) Ten panels, total size of the assemblage is 48" x 285"; 1994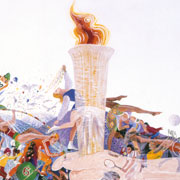 Sara Lee Corporation; Hanes Hosiery Division (Winston-Salem, NC) Olympic painting for poster, 24" x 36" and photo/mural wall at trade show, 96" x 144"; 1993.

Knight Foundation (Miami, FL) Two canvas panels, each 24" x 20" and one plexiglass panel the same size, hung as diamond, total size 36" x 54" x 6"; 1993
Cleveland Memorial Hospital (Shelby, NC) Six canvas panels, each 24" x 60", total size 84" x 159"; 1993

Midcon Corporation (Lombard, IL) Three panels (as shown above), each 24" x 72". Total size 48" x 144" x 2"; 1992
Trillium Corporation (Dugspur, VA) mural on the wall of a mountain lodge, 1990
T.W. Garner Food Co. (Winston-Salem, NC) 20" x 70"; 1992Lt. Governor Jim Gardner (Raleigh, NC) Painting reproduced as Christmas card, ltd. print, and poster; 1989
Centenary Methodist Church (Winston-Salem, NC) 16" x 20" 1985
Rodico, Inc. (Upper Saddle River, NJ) multiple commissions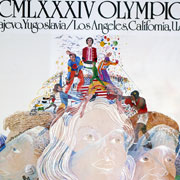 A.H. Robins Co. (Richmond, VA) Painting used as Olympic Poster and Limited Edition Prints; 1984
S.O.M.E. Shalom House (Washington, DC) Four panels, each 16" x 20". Total size 20" x 73", 1983
CONTACT | TRENA McNABB | LINKS | SITE MAP
©2019 Trena McNabb