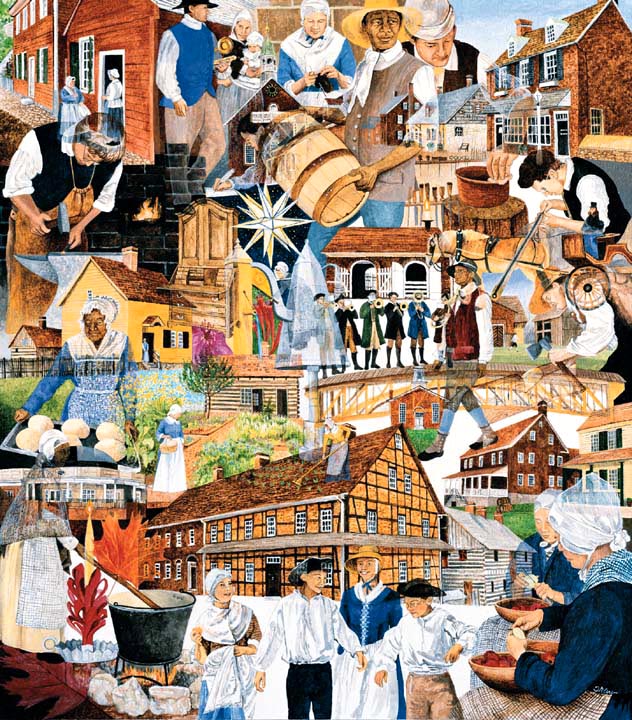 "OLD SALEM"
Original painting - 34" x 30"
Acrylic
SOLD
Old Salem, Inc. (Winston-Salem, NC) reproduced this painting as 22" x 28" poster, puzzle, postcard and note cards. Acrylic SOLD OUT
This painting was a way to express my appreciation for the effort that has gone into preserving this historic town for the future. The meaning of the word Salem is peace and you feel that it lives up to the name when you walk down the shady streets and experience that feeling of going back in time. Just as the town father's planned the original space so it has been preserved.
I have featured the Single Brothers House in my painting as well as the many guides and craftspeople in period costumes who bring the town to life. The Moravian Star and landmark coffee pot are all images important to the story of Old Salem.
The gardens, flowers and musicians represented here are but a small bit of the flavor of the town. Different seasons offer different views on life in the original town. I have tried to capture some of this flavor with the painting.
The women peeling apples and cooking over an open fire are scenes much as it must have been in the original Salem Town. The blacksmith and the African Americans all were very important to the actual building and maintaining of the town. While visiting you can take a horse and carriage ride which I have shown here. Children brighten and light up the depiction of the historic town. They made the town grow and preserved the memories. As these people are recreated for us when we walk through the town I hope my depiction of them helps keep a memory for you of your visit to Old Salem.
The new bridge and old buildings merge and overlap on the painting to create new images of the old community. The blending of timber, bricks and stone come together with the colorful flowers, leaves and historic costumes to hopefully produce a feeling in the viewer of some of the many textures and feelings a visit to Old Salem produces.
Just as the original town was built to teach and provide an outlet for the crafts, I want to honor the craftsmen and women who are carrying on those traditions today. Everything is important to the recreation – the furniture, the people, the gardens, trees, flowers and the buildings. I have tried to capture as many of these images as possible.
CONTACT | TRENA McNABB | LINKS | SITE MAP
© 2021 Trena McNabb