COMMUNITY ARTS INVOLVEMENT:
ArtPop Street Gallery: painting reproduction rotating for one year on 8 billboards and 4 digital billboards in 12 counties.
Choosen by Lamar Outdoor, ArtPop Street Gallery and Winston-Salem/Forsyth Arts Council. 2019-2020.
Guest Speaker; Club of 21 Gardens; Art and the Meadow; Winston-Salem, NC; 2019
Committee; Gateway Garden; Creating a polinator garden at a city park; Winston-Salem, NC; 2018-2019
Clean Air Carolina; Charlotte & Chapel Hill, NC; Four paintings copyright donated for reproductions as wall prints and note cards; 2016, 2019
Creator and facilitator of a group show featuring The Art of NC Native Plants; Blowing Rock Art and History Museum; sponsored by the NC Native Plant Society, May - July 2016
Board of Directors; North Carolina Native Plant Society; Membership Chairman, 2008-2015; At Large, 2015-2018
Guest Speaker; Wing Haven Gardens and Bird Sanctuary; Meadow-Making, 2016; Charlotte, NC
Guest Speaker; Reedy Creek Nature Preserve; Pressing Plants for a Herbarium & Art, 2015; Charlotte, NC
Guest Speaker; Guilford Horticultural Society; Greensboro Science Center; Meadow-Making, 2015; Greensboro, NC
Guest Speaker; North Carolina Master Gardener Conference; Making a Meadow; Winston-Salem, NC 2014

Guest Speaker; Rockingham Naturalists Club; Art and the Meadow; Wentworth, NC; 2013

Guest Speaker; Reynolda Gardens of Wake Forest University; Meadow-Making, 2010 and The Art of Pressing Plants, 2013

Juror; Sacred Space for the City, Exhibition and Conference; The Servant Leadership School, Greensboro, NC April 2012

Guest Speaker; Native Plant Meadow as inspiration and material for art; multiple locations in NC; 2010-current
Associated Artists of Winston-Salem (AAWS) Education Committee; 2004-2005; Exhibits Committee 2010

Guest Speaker; Statesville Art League; Title: Overlapping Images; Statesville, NC April 2007

Guest Speaker; Muddy River Art Association; Title: Overlapping Images; Clemmons, NC February 2007
Crossing 52; Created a concept and organized cross-cultural art exhibits to be featured in 4 major galleries in Winston-Salem. Blurring Racial Barriers with panel discussions and performing artist; Awarded a grant of $16,000 to fund the exhibitions by the Winston-Salem Foundation ECHO Fund; 2005-2006. For more information, click here.
Board of Directors; Sawtooth Center for Visual Art, Marketing and Program Committees; Winston-Salem, NC; 1991-2006
Fund Raising Events: AAWS, 6' Tennis Racket; Crisis Control, Chair; W-S Children's Chorus, Hat; Aids Awareness, Ceramic Plates; 2001-Present
Guest Curator for exhibitions at Wake Forest University, Worrell Center, Winston-Salem, NC; 2003-2004
AAWS - Show Chairman, Members Show 2003; Show Chairman Cultural Crossroads 2010; Winston-Salem, NC

Guest Instructor; John C. Campbell Folk School, Brasstown, NC; 1993
Guest Speaker for various art organizations.
OTHER INTERESTS:


Phoebe "volunteer" from 2013 died 2020 - likes mealworms
GARDENING, creating wildflower meadow between the studio and the creek and Trillium garden in the woods.

Gardening on Paper Article for The Winston-Salem Journal by Amy Dixon; 2014

Meadow Making Article for The Winston-Salem Journal by David Bare

Meadow Making Talk as covered for The Charlotte Observer by John Anderson

North Carolina Native Plant Society Board of Directors; 2010 - 2018
Piedmont Land Conservancy, Member; volunteer: Emily Allen Friendship Garden; current
Photography and Reading!
Butterflies & Birds
Creeks
Travel
Feeding and watching the wild birds. Especially Bluebirds, Phoebes, Goldfinch and Hummingbirds.
Family, husband, son, daughter and three grandchildren.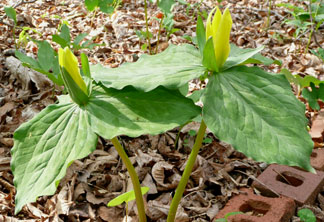 Trillium Ludium from the woodland garden next to the studio.
CONTACT | TRENA McNABB | LINKS | SITE MAP
© 2021 Trena McNabb