Phoebe "volunteer" from 2013 through 2016 - likes mealworms
COMMUNITY ARTS INVOLVEMENT:
Clean Air Carolina; Charlotte & Chapel Hill, NC; Four paintings copyright donated for reproductions as wall prints and note cards; 2016
Creator and facilitator of a group show featuring The Art of NC Native Plants; Blowing Rock Art and History Museum; sponsored by the NC Native Plant Society, May - July 2016
Board of Directors; North Carolina Native Plant Society; Membership Chairman, 2008-2015; At Large, 2015-current
Guest Speaker; Wing Haven Gardens and Bird Sanctuary; Meadow-Making, 2016; Charlotte, NC
Guest Speaker; Reedy Creek Nature Preserve; Pressing Plants for a Herbarium & Art, 2015; Charlotte, NC
Guest Speaker; Guilford Horticultural Society; Greensboro Science Center; Meadow-Making, 2015; Greensboro, NC
Guest Speaker; North Carolina Master Gardener Conference; Making a Meadow; Winston-Salem, NC 2014

Guest Speaker; Rockingham Naturalists Club; Art and the Meadow; Wentworth, NC; 2013

Guest Speaker; Reynolda Gardens of Wake Forest University; Meadow-Making, 2010 and The Art of Pressing Plants, 2013

Juror; Sacred Space for the City, Exhibition and Conference; The Servant Leadership School, Greensboro, NC April 2012

Guest Speaker; Native Plant Meadow as inspiration and material for art; multiple locations in NC; 2010-current

Guest Speaker; Statesville Art League; Title: Overlapping Images; Statesville, NC April 2007

Guest Speaker; Muddy River Art Association; Title: Overlapping Images; Clemmons, NC February 2007
Associated Artists of Winston-Salem (AAWS) Education Committee; 2004-2005; Exhibits Committee 2010
Crossing 52; Created a concept and organized cross-cultural art exhibits to be featured in 4 major galleries in Winston-Salem. Blurring Racial Barriers with panel discussions and performing artist; Awarded a grant of $16,000 to fund the exhibitions by the Winston-Salem Foundation ECHO Fund; 2005-2006. For more information, click here.
Board of Directors; Sawtooth Center for Visual Art, Marketing and Program Committees; Winston-Salem, NC; 1991-2006
Fund Raising Events: AAWS, 6' Tennis Racket; Crisis Control, Chair; W-S Children's Chorus, Hat; Aids Awareness, Ceramic Plates; 2001-Present
Guest Curator for exhibitions at Wake Forest University, Worrell Center, Winston-Salem, NC; 2003-2004
AAWS - Show Chairman, Members Show 2003; Show Chairman Cultural Crossroads 2010; Winston-Salem, NC

Guest Instructor; John C. Campbell Folk School, Brasstown, NC; 1993
Guest Speaker for various art organizations.
OTHER INTERESTS:
GARDENING, creating wildflower meadow between the studio and the creek and Trillium garden in the woods.

Gardening on Paper Article for The Winston-Salem Journal by Amy Dixon; 2014

Meadow Making Article for The Winston-Salem Journal by David Bare

Meadow Making Talk as covered for The Charlotte Observer by John Anderson

North Carolina Native Plant Society Board of Directors, Member at large; 2010 - present
Piedmont Land Conservancy; volunteering, Member; current
Photography and Reading!
Butterflies & Birds
Creeks
Feeding and watching the wild birds. Especially Goldfinch and Hummingbirds.
Family, husband, son, daughter and three grandchildren.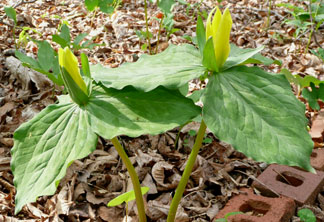 Trillium Ludium from the woodland garden next to the studio.
CONTACT | TRENA McNABB | LINKS | SITE MAP
©2019 Trena McNabb