By David Bare
JOURNAL COLUMNIST

Journal photos by Lauren Carroll
Trena McNabb took over the responsibility to tend about an acre from the city, which was happy to take the land off its maintenance-mowing list.
There are plenty of reasons one would want to avoid mowing grass.

There's the noise, the fumes and the consumption of gasoline.

Trena McNabb reminded me of all of these as we looked at her wildflower meadow.

She has her own reasons, too. The endless marching in circles to the accomplishment of absolutely nothing is a big one. "I don't like repetitive actions," she said. "I just think that grass is a total waste of time, energy and resources."

Then there are the coneflowers, the goldenrod, the ironweed, the butterfly weed, the black-eyed Susans, the butterflies and the goldfinches.

All of these played in painterly fashion in McNabb's meadow, about an acre of reclaimed land that is sweetly sandwiched between her house and the wide, gurgling, cliff-lined waters of Muddy Creek. It's a fine place to garden.

When Trena and her husband, Tommy, moved to their Bethania home in 1993, the land below them had been cleared to run a sewer line to Tobbaccoville, following along the creek. The city of Winston Salem then planted and maintained the area, using the standard techniques and equipment used to stabilize roadbanks and maintain them to avoid erosion. This includes using massive equipment and planting lezpedeza, a member of the pea family commonly employed for such purposes and often spreading to the exclusion of most other plants.

McNabb bargained with the city for her to maintain the field along the sewer line. The city was happy to take the property off the mowing schedule, and McNabb was happy to keep the mowers out.

She started her meadow by spraying the imported vegetation with an herbicide.

"I was eager to get seeds out and started planting by the pound that autumn." Butterfly weed and coneflowers started popping up the next spring -- but so did weeds and lespedeza. "I should have spent another year getting after the weeds," McNabb said.

The lespedeza has been a perennial problem. McNabb has even fashioned a special device to deal with it.
"I took a one-and-a-half-inch paint brush and attached it to a long stick so that I can paint herbicide on the plant," she said.

The meadow is a constantly changing palette of flower colors. The rosy mauve of purple coneflowers dominated on my visit along with bright orange and yellow daylilies. Butterfly weed was fading and black-eyed Susan's were just beginning. Soon to come are two species of ironweed, Joe Pye weed and such rarities as Schweinitz sunflower and Georgia Aster.

"The ironweed is so fabulous," she said describing the multiple, midnight-purple flowers, a favorite of both bees and butterflies. The Schweinitz sunflowers were a gift from Emily Allen and Ken Bridle, fellow wildflower enthusiasts.

Lewis David Von Schweinitz (1780-1834) was an ordained Moravian deacon and considered one of the founders of mycology, the study of fungi, in North America.

The Schweinitz sunflower, a rare inhabitant of the equally rare Piedmont prairie habitat, was named in his honor. Schweinitz may well have wandered this land during his time at Salem.

McNabb has been successful raising the plant form from seed. She divides it and spreads it around the property. She also gathers seed when ripe and spreads it the same way. She has accomplished a fairly even distribution of wildflowers across the meadow with this technique. She has also experimented with "live stakes." These are branches of silky dogwood that are hammered into the ground where they take root and help stabilize the stream bank.

McNabb, 67, said that she has been an artist since she left high school. At one time she was holding what were essentially two full-time jobs, as art director for AT& T and as a painter doing corporate contracts. Her husband, Tommy, is a professional photographer and blacksmith. They have been married 20 years.

McNabb's interest in wildlife and botany figures heavily into her painting as well, often incorporating preserved plant specimens among the multiple layers of painting and drawing that make up her canvas.

Her work, which is deeply infused with her love of nature, demands careful attention, only revealing its myriad intricacies and inter-dependencies after careful study.

The North Carolina Native Plant Society has been an integral partner as McNabb created her wildflower meadow. "I don't think I would even be here without the native plant society," she said. "They make plants available through trade and their plant auctions. They are always willing to give you tips and good advice. And they tell you, 'No, you are not insane, this is a wonderful project.'"

Information on the North Carolina Native Plant Society.

McNabb's source for live stakes is Foggy Mountain Nursery, 336-384-3764.

McNabb uses an herbicide called Aqua Star. It does not contain harmful detergents.
It can be found at Green Resource, 336-855-6363 or 1-800-225-8061.

McNabb has ordered seed from Shooting Star Nursery, 502-867-7979.
She's also ordered from Prairie Moon Nursery, 1-866-417-8156.
Plants come from Meadowbrook -We-Du Native - Nursery, 828-738-8300.

You can visit McNabb's website and see more of her work at www.tmcnabb.com.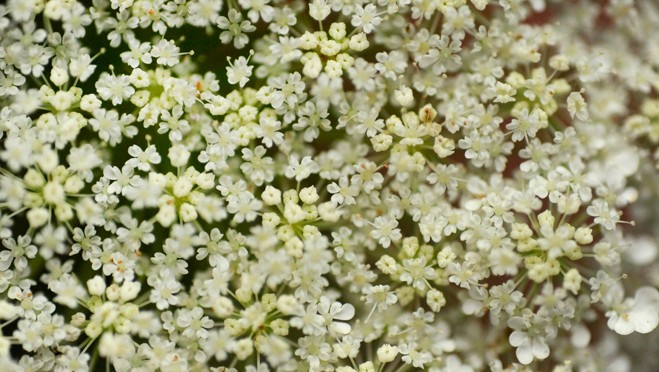 The variety of flowers in McNabb's meadow are pleasing to creatures great and small.