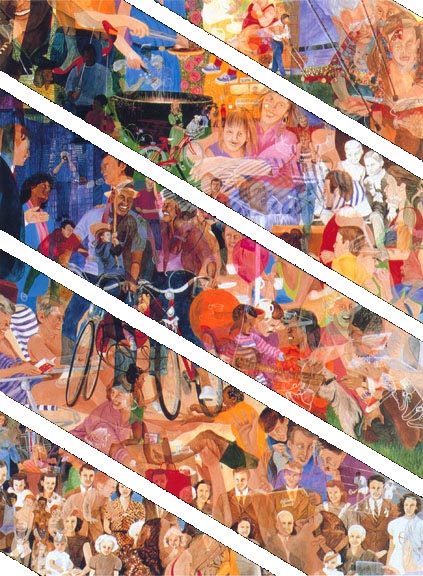 Lobby, main wall

Behind the Teller Counter
"WE'RE A FAMILY"
Paintings at Truliant Credit Union (Winston-Salem, NC)
Three locations. Behind the Teller Counter: 6 panels, total size of the assemblage is 48" x 204" x 2"
Lobby, main wall (shown) Five panels, total size is 185" x 144" x 2"
Board of Directors Room: 36" x 48"; 1993
In this painting I tried to capture the feeling that we are all one family of credit union members. The images and scenes depict credit union members interacting with other family members. These family relationships span our families, jobs and leisure activities. That same sense of family extends to all members of the credit union as we share in its ownership.
Tying the painting together are various images which span several panels. One such scene, showing a couple jumping out of the water for a ball, extends from the bottom frame up three panels. Water droplets dripping from the ball carry the motion back down in the other direction also adds to sense of unity among the panels.
Other family scenes portray couples on the beach, riding bikes, skiing, getting married, being with their children and grandchildren. An expectant father contemplates his wife in her pregnant state in awe of what is to come. And, old family photographs in sepia tones spanning the entire width of the color area recall memories of our ancestors and days gone by.
The use of transparent images conveys the feeling of the overlapping multiple needs and interests of the members of our credit union family.
Collectively, these works sum up my belief in the strength of living, working and playing together - the strength that comes from being a family!
CONTACT | TRENA McNABB | LINKS | SITE MAP

© 2020 Trena McNabb