Commission: Arbor Acres, Winston-Salem, NC
Painting to honor their employees
48" x 72"; Installing Sept 1, 2014
This series of photos describes how the painting begins with the preparation of the wall on which the work will be done
and preparing the stretched canvas for images.

Preparing the wall with a series of horizontal screws which will allow the painting to be raised up and down on the wall.

Possitioning the canvas a series of screws.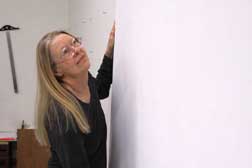 Pushing the canvas into place and flat to the wall.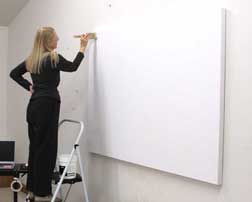 Adding the final touchup of primer.

And now the months of work begins. . . .

Back to www.tmcnabb.com
© 2017 Trena McNabb