Year-round Gallery Representation and other FUN stuff:
Gallery C
540 Blount St.
Raleigh, NC 27604
919-828-3165
1-888-278-3973
Gallery C West
The Pavilions at 1179 Main Street
Blowing Rock, NC
Open: May 18 - October 30, 2019
e-mail
Carlton Gallery
10360 Hwy 105 South
Grandfather Mt. Community
Banner Elk, NC 28604
828-963-4288
e-mail
Sawtooth Center for Visual Art
251 N. Spruce St.
Winston-Salem, NC 27101
336.723.7395
e-mail
ArtPop Street Gallery; One of five winners in the ArtPop competition,
which provides temporary two-dimensional public art
rotating for one year on five billboards in Forsyth, Guilford, Montgomery, Stokes, Davidson, Surry, Davie, Yadkin, Alamance, Randolph, Rockingham and Caswell counties. Lamar Outdoor Advertising, ArtPop Street Gallery and the
Winston-Salem/Forsyth Council Arts Council are partners on the project. Artists from the 12 counties were invited to submit work. 2019
Winston-Salem Journal, ArtPop Announcement article (reprint)
Commissions Complete:

Wake Forest Baptist Hospital
Birthing Center; Winston-Salem, NC 2019
36" x 94" (3 panels, each 36" x 30")

Lucile Packard Children's Hospital,
Palo Alto, CA; 2019
2 panels, 19" x 145" and 19" x 120"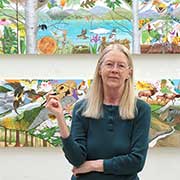 Winston-Salem Journal, Relish article

"Tree of Life: Honoring Life-giving Heroes"
Painting reproduced on matt finish, 48" x 96"
Abdominal Organ Transplant Program
Rcognizing donors by inviting them to
sign their names to the wall.
Wake Forest Baptist Health,
Winston-Salem, NC; 2019

Previous Commissions: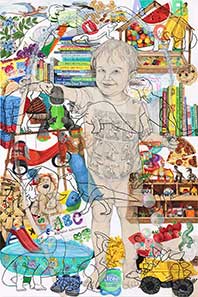 Portrait of Madison
Detail 1, Detail 2, Detail 3
A two year old who loves dinosaurs
size 24" x 36" SOLD
Red Oak Brewery
Winsette, NC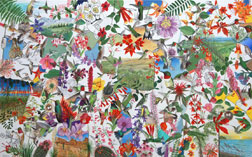 HUMMINGBIRDS OF NORTH AMERICA
with Landscape vignettes
Acrylic
30" x 48" SOLD
Detail 1 - Detail 2 - Detail 3 - Detail 4
Environmental Support:
Clean Air Carolina; Charlotte & Chapel Hill, NC;
Paintings copyright donated for reproductions
as wall prints and note cards:
Pressed Plant Information:

"The Art of Pressing Plants"
if you are interested in my technique for pressing plants.

Winston Salem Journal Article Reprint