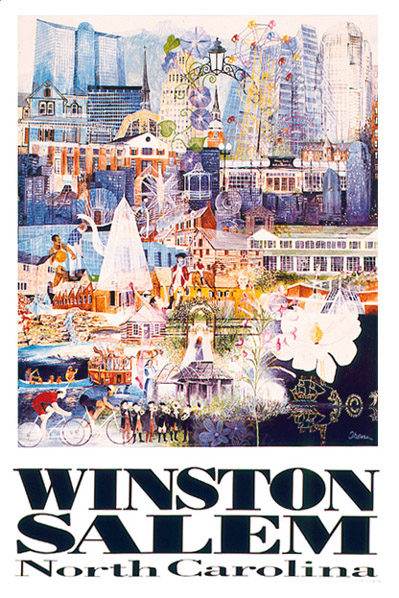 "Winston-Salem"
Acrylic
30" x 40" SOLD
Winston-Salem, NC; Painting available as 24" x 36" poster; $25 Each.
From the seaside to the mountains, North Carolina has it all – from the cool greens of the Smoky and Blue Ridge mountains, to the cool blues of the Atlantic ocean and the warm beige of its sandy beaches. This painting reflects not only the natural attractions that make North Carolina a place of unique beauty, but also the history, culture, activities and lifestyles of its people.

From the historic perspective, I have tried to depict North Carolina from the founding of the very first colonial settlement on the Outer Banks, as represented by the image of the Elizabeth II, a replica of the 50-ton bark that carried the first settlers to our shores, to the present day. The historic scenes woven through this painting include Tryon Palace, the seat of the colonial government when North Carolina was one of the 13 original colonies, the Wright brothers historic flight at Kitty Hawk, the majestic Biltmore house reflecting the grandiose turn-of the century period, and the World War II battleship USS North Carolina, permanently anchored in Wilmington. Figures in period costumes add to the historic portrayal.

Modern scenes reflect current lifestyles from city life to farming communities, ephasizing traditional family values and cultural diversity. Festivals and fairs, the North Carolina Zoo, hang gliding, hot air balloons and music scenes show the variety of entertaining activities available to the people of North Carolina. While on the serious side, an image of modern medicine testifies to our state's leadership in medical research and technology. Representative campus images speak to the importance of higher education in North Carolina.

A favorite part of this painting for me is the black bear to the right of the Biltmore House morphing into the mountains. I've included these and other images of wildlife and aquatic life to emphasize the abundance of natural resources we have all across our state. A flowering tobacco plant symbolizes both an important part of North Carolina's history and its commerce. Finally, rounding out my images of North Carolina are subtle transparent overlays of our state bird, tree and flower.

CONTACT | TRENA McNABB | LINKS | SITE MAP
© 2021 Trena McNabb