Overall painting (top) and Detail Photograph (bottom).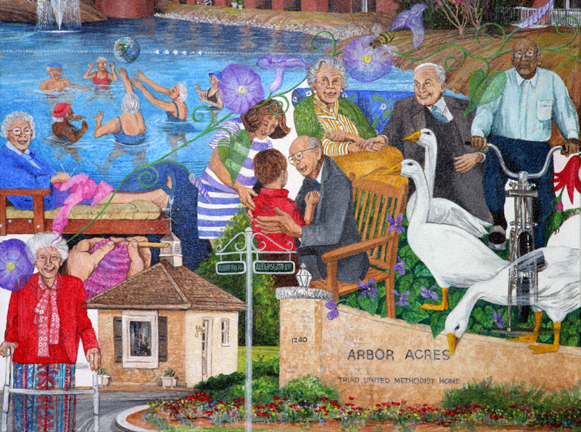 "ARBOR ACRES- The FIRST 25 Years"
Arbor Acres Methodist Retirement Home (Winston-Salem, NC); Three canvas panels, total size: 36" x 96" x 2"; 2005.
"This painting is a celebration of the many accomplishments made by a retirement community known as Arbor Acres. Founded by the United Methodist Church in 1980 to serve senior adults who wanted the opportunity to live and support each other as they grow older, it offers residents a place to share their interests in spiritual growth as well as offering the facilities to accommodate an aging population with love, compassion and respect. The programs and the facility enhance the opportunity for security, contentment and life with meaning and purpose.

The overall shape of the piece invites the viewer to enter through the welcoming gates at the center. There you are greeted by smiling faces - much like you would encounter as you enter the actual facility.

The fountain and buildings anchor the painting and connect as they do in reality. Activities are abundantly represented on the painting as they happen daily at the facility.

Holiday activities provide opportunities to dress up and participate in plays, music and festivities, which bring smiles to faces. Family is always welcome and present everywhere.

Many of the most well loved aspects of the facility make it home to the residents. Beautiful fountains, gardens, benches and paths invite an appreciation of nature. The residents vegetable garden is also a favorite spot overlooking the skyline of the city of Winston-Salem and the "Children's Home" farm with its barns and cows.

Blue bird boxes abound as the residents encourage the birds to come live here too! Many birds are welcome and are attracted by the ponds and water falls.

And then there is the food – from the "Farmer's Market" to the table, residents appreciate the look and taste of good food.

The staff is also honored here. Health care and maintenance workers have become "members of the family" in this unique community of people who care about and for each other.

I hope that you will find many images here to remind you of the great times you have had at Arbor Acres and know that your being there was a benefit and blessing to everyone.
CONTACT | TRENA McNABB | LINKS | SITE MAP
© 2020 Trena McNabb